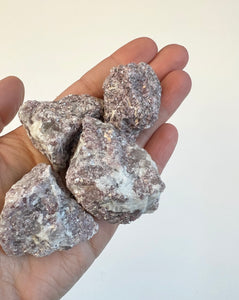 Uplifting and balancing emotions / Peace stone
Lepidolite is sometimes called the "peace stone" or "grandmother stone" because it is thought to have nurturing and calming properties. Within the metaphysical realm, lepidolite aids in overcoming emotional or mental dependency and helps treat addictions and all kinds conditions, including anorexia. It is also thought to help those with bipolar disorder because of its mind-balancing properties. Lepidolite is believed to alleviate feelings of stress or nervous conditions while opening the mind and calming the higher self.
These crystals come in all different shapes and sizes. Please also note these are natural crystals and stones from the earth, so they won't always be perfect.
All crystals are cleansed before shipment
50g & 4x6cm approx
All crystals are intuitively chosen
Price is for one piece