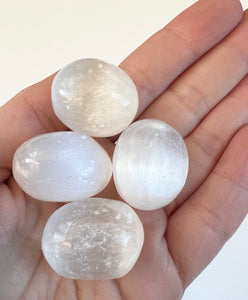 Grounded and Energy
The stone of connection. Selenite creates a safe, peaceful space blocking out anything that attempts to influence your mind and is ideal for meditation practice. The power of this stone can charge any crystal and strengthen its properties making it the ideal stone for changing crystals or accompanying your choice of crystals for the day. 
Perfect size to keep in your pocket or any desired place.
These crystals come in all different shapes and sizes. Please also note these are natural crystals and stones from the earth, so they won't always be perfect.
All crystals are cleansed before shipped to you
All crystals are intuitively chosen