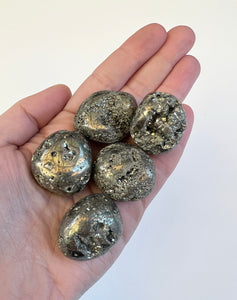 Motivation and empowerment
Pyrite is a heavy grounding stone that brings inspiration and motivation. The incredibly powerful and inspiring energy of this stone can light the fire in your belly, empowering you to take charge and push you down the path to success.
These crystals come in all different shapes and sizes. Please also note these are natural crystals and stones from the earth, so they won't always be perfect.
All crystals are cleansed before shipped to you
All crystals are intuitively chosen