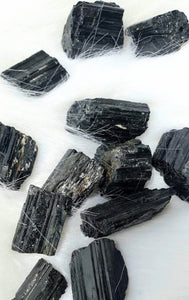 For Protection & Grounding
Black Tourmaline is a very powerful protective and grounding stone. It protects against all negative energies and negative thoughts, healing on a physical, emotion, mental and spiritual level. It encourages a positive attitude and outlook on life, no matter the circumstances. Helpful for renewing a sense of comfort, ease and positivity, use in meditation and healing to enhance the flow of the energy throughout the body. 
Price is for one piece only.
These crystals come in all different shapes and sizes. Please also note these are natural crystals and stones from the earth, so they won't always be perfect.
All crystals are cleansed before shipped to you 
All crystals are intuitively chosen