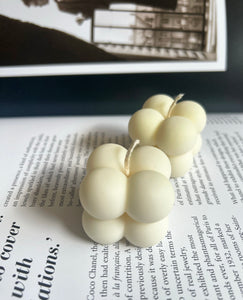 Hand poured with a soy blended wax and scented with a natural artisan fragrance oil of choice or unscented. 

These gorgeous aesthetic candles are a statement piece in any home.
Perfect on a coffee table or in any room as a decor piece.

Great for gifting or just spoiling yourself. 
These candles are perfect for any event as a favour/ bonboniere. If you're interested please send as an email and we will assist with further questions about our wholesaling process. 
These candles can be decorated with box and ribbon as requested. 
Measurements : 3.5cm x 3.5cm x 3.5cm
Disclaimer: You might notice a slight frost/ uneven finish on the candle. This is normal as we use soy wax and we find it more unique that way. You will also find the wax slightly a different colour as the fragrance oils we use are pigmented which stains the wax. 
 All candles are made to order, so please allow time to perfect your candles.
Candle Care and Safety  
Avoid placing near a draft, open window, air duct or fan
Ensure wick is trimmed each time candle is lit
Do not leave candle unattended whilst lit
Stop burning the candle once 2cm of unmelted wax remains
Mini Bubble candle is made for decorative use, however, if you decide to burn it we
 strongly recommend you place a heat-proof dish under the candle to help control any excess wax from dripping.