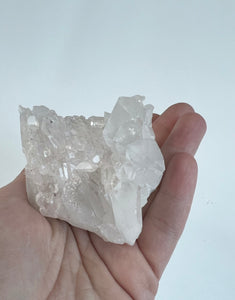 Clear Quartz is known as the master healer and is the most powerful healer & amplifier, excellent for blockages. Clear Quartz Clusters
 radiate immense amounts of energy due to their many points, absorbing all the negative energy around them. They have extreme clarity and many hold rainbows within them.
Clear Quartz w
orks on all levels of self, aids memory, energizes thoughts, and activates your chakras.  It amplifies the energy level of any other gemstone it touches, making it an ideal crystal to use with others.  It is said to increase spiritual wisdom. Promotes clarity of the mind and aids in creativity. Believed to increase wisdom and insight. Program them to hold your thoughts and intentions so that they can constantly put them out into the universe.
These crystals come in all different shapes and sizes. Please also note these are natural crystals and stones from the earth, so they won't always be perfect.
Each piece varies and is unique. 170g approx/10cm
All crystals are cleansed before shipped to you
All crystals are intuitively chosen