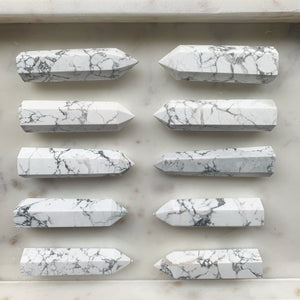 Howlite is a wonder stone for calming upset states of mind and emotion. Howlite decreases an overly critical state of mind, selfishness, stress, and anxiety, bringing calm and relaxation. Howlite can calm difficult communications and ease confrontations; particularly by decreasing rudeness and facetiousness. The wake of such calming can help one be truly comfortable as oneself without the need to pretend to be anything but what you are. It is said to aid pain, insomnia, bones, osteoporosis, teeth, calcium levels, leg cramps, anxiety disorders and stress-related illnesses.
One piece, intuitively chosen for you.
Cleansed before shipped to you.
Size: 6cm-7cm approx 
Weight: approx 40 - 50 grams per point
Hand picked and packed for you, each single piece is beautiful with its own uniqueness and markings.
All crystals are intuitively chosen