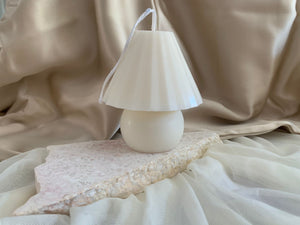 Hand poured with a soy blended wax and scented with a natural artisan fragrance oil of choice or unscented. 

These gorgeous aesthetic candles are a statement piece in any home.
Perfect on a coffee table or in any room as a decor piece.

Great for gifting or just spoiling yourself. 
Approximately 180 grams.
Hand-poured in Australia.
3-4 hour burn time per candle.
Measures 8.9cm high and 7.5cm wide.
Candle Care and Safety  
Avoid placing near a draft, open window, air duct or fan
Ensure wick is trimmed each time candle is lit
Do not leave candle unattended whilst lit
Stop burning the candle once 2cm of unmelted wax remains
Lamp candle is made for decorative use, however, if you decide to burn it we
 strongly recommend you place a heat-proof dish under the candle to help control any excess wax from dripping.