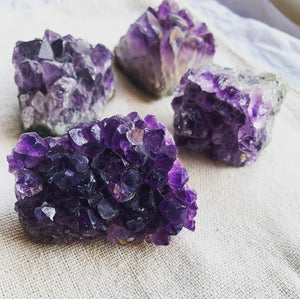 Amethyst
is known as "The All Purpose Stone".  It resonates with the Crown and Third Eye Chakras.  Amethyst is for spirituality and intuition.  It provides clarity when there's confusion in the mind and helps to relieve stress and anxiety.  It has strong healing and cleansing powers and brings calmness and clarity in times of turmoil.
Each piece is hand selected and one-of-a-kind; you will receive an Amethyst cluster of similar size and colouring to the piece pictured. We cleanse, pack and send each of our pieces to you with the utmost care and love.
Disclaimer:  Colours may vary slightly due to the natural crystal.
Origin: Brazil 
Medium sized cluster
All crystals are intuitively chosen
All crystals are cleansed before shipped to you