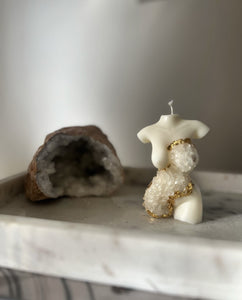 Hand poured with soy blended wax and scented with a natural artisan fragrance oil of choice or unscented.
These gorgeous aesthetic candles are a statement piece in any home.
Perfect on a coffee table or in any room as a decor piece.
Great for gifting or just spoiling yourself.
Disclaimer: These candles might have minor imperfections, but that what makes the candle unique. 


Candle burns 1/2 hour only 
You will also find the wax slightly a different colour as the fragrance oils we use are pigmented which stains the wax. 

Measurements: Small: H 10cm x W 6cm, Large: H 16cm x W 10cm

 Crystal Meaning: 
One of clear quartz's benefits is enhancing mental clarity. It can help with emotional stability, and it's popular in meditation and restorative work. It's also often used for manifestation and can help create more focus and clarity around a desire.
CANDLE CARE:
Place a tray/plate underneath the candle when burning.
Never leave a candle unattended when lit and always keep candle on a flat surface.  


Always trim your wicks after each burn
Never leave the candle near children and pets
For best results, burn the candle for no longer than 2 hours at a time.